Wildlife Expert Safari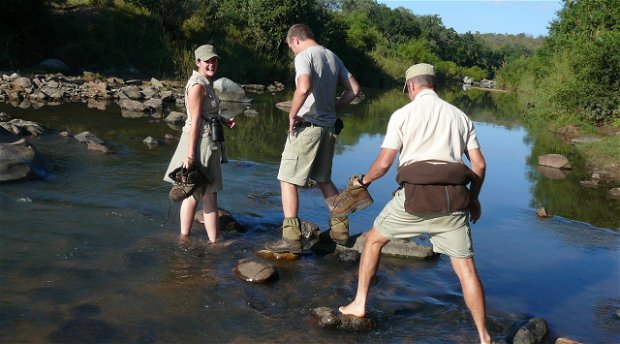 A unique Safari offer for German and English speaking Safari guests to provide a different, deeper insight into the fascinating world of the African savanna.
If you have always wanted to know much more about how the animals, flora, land and its people are connected together - then this intensive week-long Safari course is made just for you!
Every year, the Wildlife Expert Safari takes place in a private nature reserve in the greater Kruger National Park area. In this course you will learn everything you need to know on safari - but don't worry: you are guaranteed to have a lot of fun as well!
READ MORE ABOUT THE COURSE IN THE GERMAN MAGAZINE 360 DEGREES AFRICA ISSUE 01/2018!
In the middle of this natural paradise with magnificent landscapes and an incredible biological and cultural diversity, this week will inspire and excite you. During the course you will stay in comfortable 2 bed chalets with a private bathroom. Culinary delights are also part of the overall experience: with a good glass of South African wine, the delicious meals taste even better at the fireplace!
Bring your camera, hat, walking boots and plenty of sunscreen. Bring your binoculars too - and you're ready to go!

With a maximum number of only 10 guests, the course caters to you individually. An experienced and qualified guide-instructor, who speaks fluent German and English will be able to show and teach you far more during this week than is possible on other safari adventures. The course language and course materials are in English and German. This allows you to gain a deeper understanding and appreciation of the land, the people and animals they live in.
Wildlife Expert Topics
History of the Greater Kruger National Park
Conservation and management of a game reserve
Survival and safety in the bush
Approaching the "Big Five" on foot
Bush navigation & astronomy
Reptiles & amphibians
Trees & plants of the Bushveld
Insects, spiders and scorpions
Wildlife Expert Activities
Day excursion to the Kruger National Park with overnight stay
Snake study (incl. certificate) in the Reptile Park
Tracking animals
Trees, plants and shrubs, medical knowledge and cultural background
Bird identification
Bush walks with focus on insects, spiders, scorpions
Not included in the safari:
- International and national flights and road-transfers to Hoedspruit (South Africa)
- Other drinks (hard liquor, speciality wines). Beers and house-wines are included
- Travel- and medical insurances
Minimum age for the Wildlife Expert Safari is 18 years and a single room is available on request (supplement is 30%). Number of participants: min. 4 participants, max. 10 participants.
Contact us here for more information.